Installation, left to right: Bárbara Sánchez-Kane, Kristin Reger, Eduardo Cornejo, Rubén Ulises
Installation, left to right: Eduardo Cornejo, Rubén Ulises, Eduardo Cornejo, Alan Hernández
La Mano Negra
Javier Barrios, Eduardo Cornejo, Alan Hernández, Manuel La Rosa, Kristin Reger, Bárbara Sánchez-Kane, and Rubén Ulises. Curated by Yeni Mao
guadalajara90210
Calle Mexicaltzingo 1343, Americana, Guadalajara, Jalisco, México
27/05/2023 – 12/08/2023
The inception of La Mano Negra was largely based in a conversation Rubén Ulises and I had, about the influence of anime in a younger generation of artists. Growing up looking at things like trash and pulp, anime, kung-fu, and fantasy translated into more mature ways of thinking about the supernatural and how that could be utilized to challenge power structures or provide paths from the norm. This initial conversation has since distilled into this exhibition, of contemporary practices that sit in the divergent, in the forces that work beneath a physical manifestation, that search for alternate understandings of established equations.
La Mano Negra is an exhibition that unites seven artists who use a fetishistic approach to their practices, imbuing inanimate objects with meaning through the transformation of material. Isolating a material, object, image or symbol in a talismanic obsession, or, using that fixation to subvert the definition of a symbol. This selection of sculptures and videos are ritual and reflexive objects, achieving expansiveness through abbreviated form. The works use formless presence to manifest each artists' expression. Though they may not agree, they are creating alternative economies of spirituality, shifts in esoteric space made with material interventions.
The name La Mano Negra is used by various insurgent and organized crime groups in several parts of the world. Their actions are unseen but marked with a claim of responsibility.
Javier Barrios' video of his quest for the elusive ghost orchid in the Fakahatchee Strand Preserve in southern Florida is a hallucinatory story of obsession and deception. The hunt through the swamp ends in the generation of the object of desire. The video is accompanied by a wall-mounted still life, a testament to creation and handwork.
The works of Alan Hernández are posthumous tributes to his mother, exploring the collective connection of loss. Hernández uses embellishment, ornamentation and the reuse of materials as rebirth. Polilla is based in the Mesoamerican belief that a Black Witch Moth perched on your home portends an upcoming death or bad luck.
Produced for this exhibition, Manuel La Rosa's installation utilizes panels made of 1,984 used razors recovered from barbershops, hung in front of a shroud that cradles sweet potatoes in a state of suspension, mummified by magnetic powder. La Rosa poetically parallels the moments of surrender and deliverance in rituals of male beautification with the preservation of organic matter.
Rubén Ulises works in a realm of mythological creatures, drawn from nahuales, chupacabras, to Dragon Ball Z. He corrupts these mythologies to comment on the social, political, and actual toxicity of territorial structures, specifically for Ulises the navigation of the interstitial space of the Mexico/US borderlands. This experiential information is stored in the flesh. These three works were also made for this exhibition.
Resisting flattened narratives, Bárbara Sánchez-Kane modifies the Pemex logo- an eagle with a drop of oil- into a set of testicles, adding to this symbol of national identity a pair of high-heeled shoes inspired by the surrealist Meret Oppenheim. Sánchez-Kane uses this collision to challenge gendered structures of power and palimpsestic identities.
Eduardo Cornejo's stacks of milk crates supports a series of videos and replicated anime paintings, the crates a cage for the embedded figures in an acerbic comment on the perpetuity of lost desires. The (somewhat unbearable) soundtrack of Abba's "Thank You For the Music" becomes a black reflection of emotion. Cornejo also presents two panels of equally punk text on a background of sweet pink.
Kristin Reger deals with the condensed and exploded body, traveling through existential concerns such as integration, the validity of cognitive programming, and disillusion, to create a symmetric proto-being. Taking a cue from the etymology of the word "larva", derived from the latin ghost or demon, Reger describes her large hanging work IUDUIUDUI as "a ghost coming together into being". Larva type forms assemble themselves, oscillating between flesh, the digital, and dead matter.
Yeni Mao
Spring 2023
Installation, left to right: Rubén Ulises, Bárbara Sánchez-Kane
Installation, left to right: Alan Hernández, Kristin Reger, Eduardo Cornejo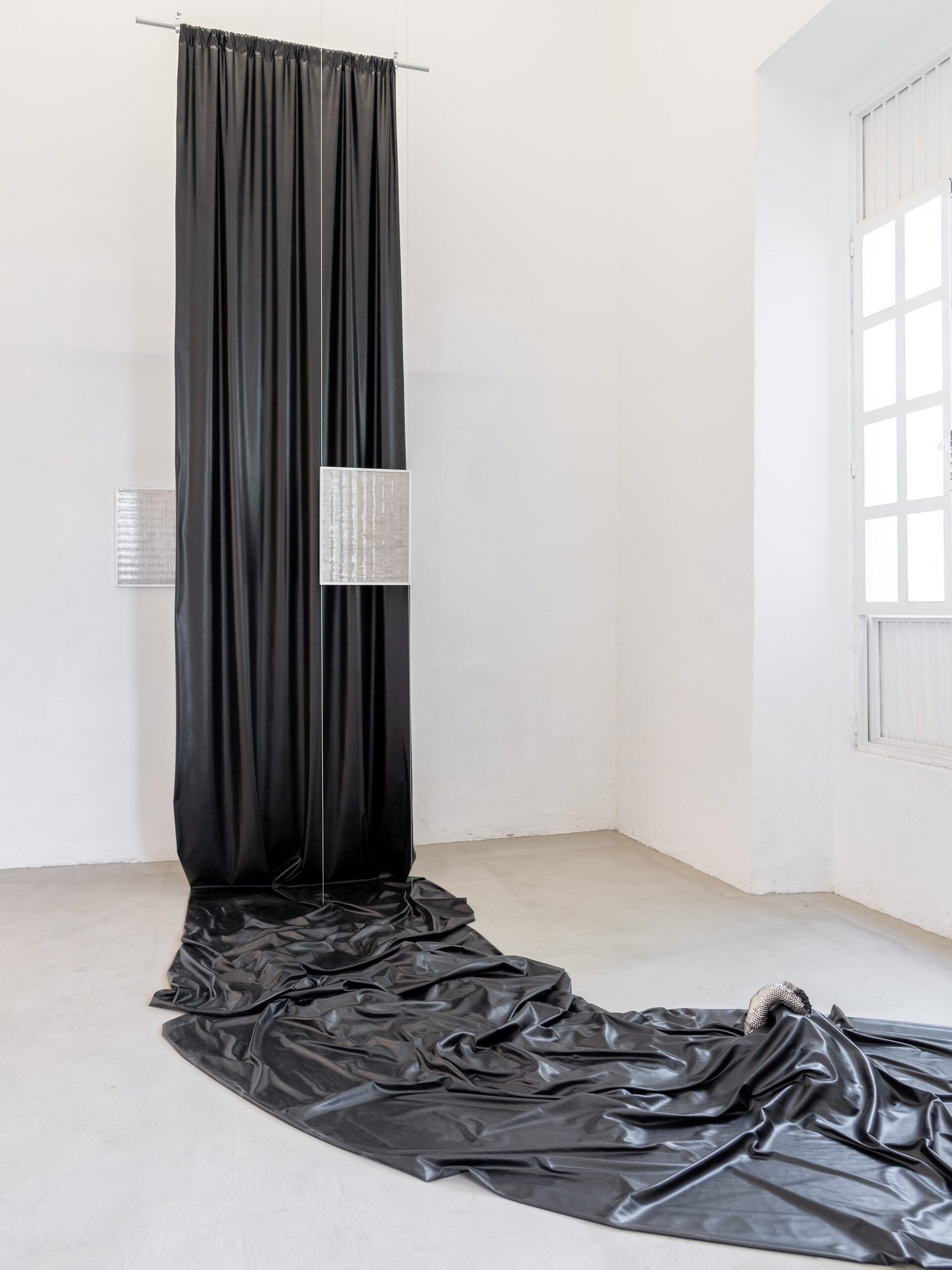 Manuel La Rosa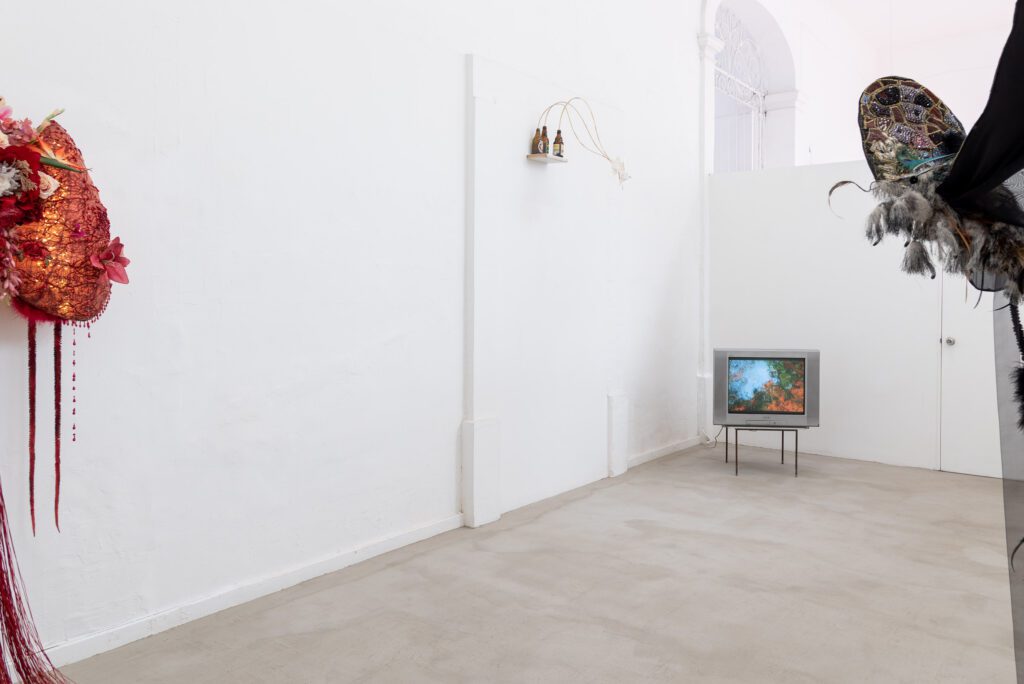 Installation, left to right: Alan Hernández, Javier Barrios, Alan Hernández
Installation, left to right: Alan Hernández, Manuel La Rosa, Alan Hernández
photos: Agustín Arce Figueroa